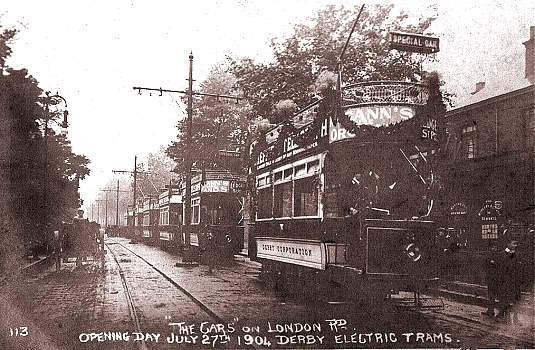 Postcard of the Month
Derby Corporation Tramways Car 3, Opening Parade
The year 2004 was the centenary of the opening of Derby's electric tramways. Our postcard shows a line of trams standing in London Road on 27th July 1904 awaiting the opening ceremony, headed by car 3 which is decorated for the occasion. This is card 113 in a series by Lever Bros., Fine Art Dealers who were a local firm in Derby.
Derby tramways started life as a horse tramway opened by the Derby Tramways Co. in 1880. In 1899 the company was taken over by Derby Corporation who set about improving and then electrifying the tramway with the first electric routes opening on 27th July 1904 from The Spot to the Harrington Arms in Alvaston, a branch to the Midland Railway Station and from The Spot to Abingdon Street where the depot was located. There were various extensions until 1908 which then brought the system up to fourteen miles in length ultimately operating some 78 trams . The system was built to the unusual 4 foot gauge.
Car 3 in our view was one of the original batch of 25 open top cars built in 1904 by the Brush Electrical Engineering Co. Ltd., of Loughborough. They seated 22 inside and 26 on top. They were fitted with 5ft 6in wheelbase Brush AA type four-wheel trucks with two BTH GE52 25hp motors and General Electric K10 controllers. The livery was dark olive green and cream.
In the 1930s, in common with many other British tramways, it was decided to replace the trams by trolleybuses, with the last tram running on 2nd July 1934, the trolleybuses themselves being withdrawn on 9th September 1967.

Go to Postcard Of The Month Index




Reload Home if you linked directly to this page



Postcard of the Month is created by John R. Prentice © Copyright 2004