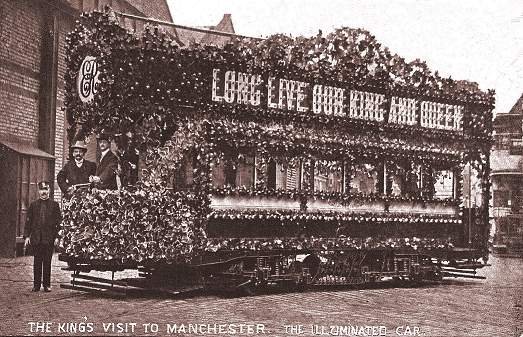 Manchester, Illuminated Car for King Edward VII's Visit
Manchester has become a regular location for the Festival of Model Tramways but of course has had much more famous visitors. King Edward VII and Queen Alexandra made two Royal visits. Our postcard shows the tram illuminated for the official visit to Manchester by the King and Queen on their second visit in 1909. The caption printed on the other side reads "This beautiful series of fine art cards is supplied free exclusively by Brett's Publications, comprising 'My Pocket Novels', 'Keepsake Novels' and 'Something to Read'.
The lights on the side of the tram spell out "Long Live our King and Queen" and it is standing outside Hyde Road depot. The tram is probably car 585 built for the Corporation in 1904, one of a batch of 100 from Brush Electrical Engineering Co. Ltd that used Westinghouse equipment and ran on Brill 22E bogies. This car was at the time open top, but top covers were soon added, some cars of the batch being delivered with them already fitted.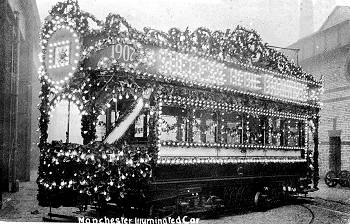 On the first royal visit on 13th July 1905, the King opened the No. 9 Dock at nearby Salford and accompanied by the Prime Minister of that time, A. J. Balfour, visited the ground of Manchester City Football Club which was then in Hyde Road and where they would most likely have seen the same illuminated tram, which had also been prepared for that event. During the visit the procession followed Stretford Road and Chester Road which were closed to traffic for the occasion, so the power to the tramway there was temporarily cut. The royal couple made the second visit to the city in 1909 for the opening of a new building of the Manchester Royal Infirmary, the occasion of our main postcard.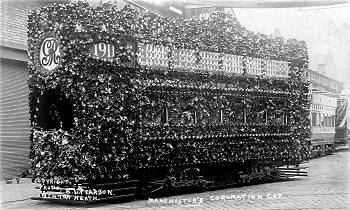 In addition to 1905 and 1909, the same tram was used for an unspecified event in 1907 (above) and for the coronation of King George V on 22nd June 1911 (right). These small views are taken from postcards by Whittaker & Co. of Manchester and Pearson's Studio of Newton Heath respectively. Over the years, Manchester decorated many other trams for special events. (see Decorated Tramcars).


Go to Postcard Of The Month Index




Reload Home if you linked directly to this page



Postcard of the Month is created by John R. Prentice © Copyright 2004 & 2011