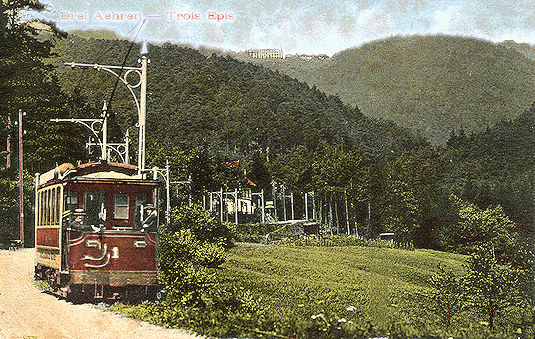 Turckheim to Trois Épis, Car 1 at Trois Épis (Drei Aehren)
This postcard was printed around 1910 by Gebrüder Metz of Tübingen in South West Germany. The view was taken in the Vosges Mountains in Alsace, France. However, Alsace was part of Germany from 1871 to 1919, hence the bilingual caption. "Drei Aerhen" is the German equivalent of the French "Trois Épis".
The Tramway Touristique Turckheim - Trois Épis (Bergbahn Türkheim - Drei Aehren) was the smallest, and least documented of the several tramways known collectively as the Tramways of the Vosges. Turckheim is a small town at the entrance of the Munster valley which is west of Colmar. It is quite close to Wintzenheim which was the terminus of a cross country tram route of the Colmar system.
The village of Trois Épis is a tourist resort and place of pilgrimage to the shrine of Notre-Dame des Trois Épis. Legend has it that in 1491 the Virgin appeared to a blacksmith and said that if the village gave up its evil ways, then it would have good harvests, hence the name Trois Epis/Drei Aehren which translates as "three ears" (as in ears of corn).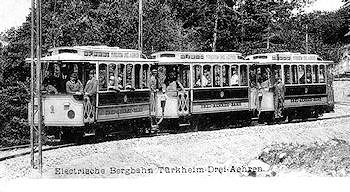 The metre gauge tramway, built by Schuckert & Co. of Nuremberg (later AEG) to carry tourists/pilgrims, was opened on 3rd June 1899. It climbed out of the valley for 8 km between Turckheim and Trois Épis and included 90 metre radius curves and a gradient of 9.8%. There were seven small 4-wheel tramcars, each of which had two 30 horse power electric motors. There were also two baggage cars and a goods wagon. Each motor car had three types of brake, a hand brake, a Westinghouse air brake, and an electro-magnetic brake. At peak periods the cars were coupled in pairs or even in threes (right). In 1911 ownership passed to Türckheimer Elektrizitätswerk und Bergbahn (TEB), after 1919 called Société d'électricité de Turckheim et du Tramway des Trois-Épis. The line closed to traffic on 1st January 1937.

The Tramways of The Vosges Mountains
REMIREMONT - GÉRARDMER (See Postcard)

Intermediate towns Julienrupt, Le Tholy. A roadside steam light railway operated by Compagnie des Tramways des Vosges.

GÉRARDMER - RETOURNEMER (See Postcard)

Intermediate town Longemer. A roadside steam light railway operated by Société des Tramways de Gérardmer.

RETOURNEMER - LA SCHLUCHT - HOHNECK (See Postcard)

Electric tramway operated with railcars having two bow collectors by Société des Tramways de Gérardmer.. In addition to the through service (which reversed into and out of La Schlucht), the La Schlucht - Hohneck section had a shuttle service ran by two Preston built trams with single bow.

LA SCHLUCHT - MUNSTER (See Postcard)

Operated as the Münsterschluchtbahn using electric railcars with two bows similar to above, but rack assisted.

TURKHEIM to TROIS ÉPIS (This Page)

Electric tramway operated as the Tramway Touristique Turckheim - Trois Épis



Go to Postcard Of The Month Index




Reload Home if you linked directly to this page



Postcard of the Month is created by John R. Prentice © Copyright 1999