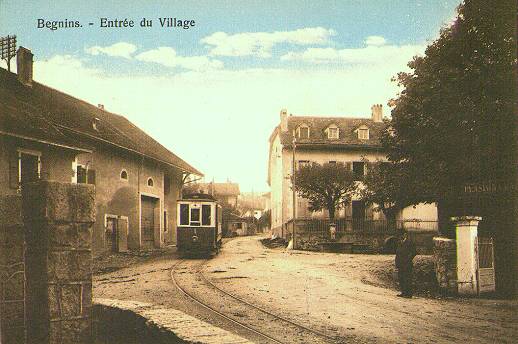 Gland-Begnins Car 1 at Begnins
Not all tramways were large systems with many cars serving networks of routes. Our postcard shows the tiny system in the foothills of the Jura in the canton of Vaud in Switzerland, which connected the main line railway at Gland with the village of Begnins. The card dates from around 1910 and is number 50456 from Ed. Lincio Jean Hoirs. It shows car 1 as it enters Begnins village.
The tramway was opened on 18th June 1906, consisted of 3.7 km of metre gauge route and was run by just two trams. Commencing outside Gland station, on the SBB/CFF railway from Geneva to Lausanne just east of Nyon, the tramway had a half km section of sleeper track to Gland-Village and then ran on tram track in the roadway. It passed through the village of Vich and finally terminated in the Begnins village square outside the Hotel Ecu Vaudois. The route was surrounded by vineyards. There was a depot and workshop at Gland and a small overnight shed at Begnins.
The two single-deck trams, 1 and 2, were built by MAN (Maschinenfabrik Augsburg-Nürnberg AG) in 1906 with electrical equipment by Rieter of Winterthur. They had 3.5 metre wheelbase 2-axle radial trucks with two 35 horsepower motors (increased to 60 hp in 1945) running at 750 volts D.C. Hand and rheostatic brakes were used. Twenty-four seated passengers were carried on longitudinal bench seats. The tram platforms were asymmetrical, with a baggage compartment at one end. Initially the cars were painted green and white but from 1924 were repainted grey and white. The company also had a 15 seat trailer car of 1892, purchased from Neuchâtel Tramways in 1907, two goods wagons and a postal van.
The tramway had a fairly uneventful life but finally succumbed to competition from motor traffic and was replaced by a bus service, the last tram running on 22rd May 1954.



After this postcard do you fancy a Swiss fondue? Then try the Fond-U-Like fondue website.




Go to Postcard Of The Month Index




Reload Home if you linked directly to this page



Postcard of the Month is created by John R. Prentice © Copyright 2003