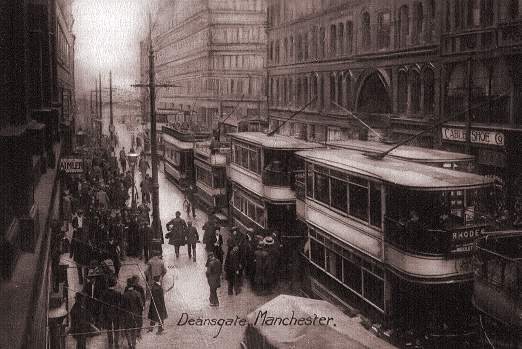 Manchester, Deansgate with Salford trams
This postcard showing Deansgate in Manchester is a "Real Photograph" taken in about 1910, although the purchaser has recorded that he bought the card in 1936 and that it was "old stock".
Manchester and the neighbouring city of Salford both commenced electric tramway operations in 1901, having electrified earlier horse systems. Through running between the two commenced on 31st May 1903. Deansgate in Manchester was then the main route for several Salford lines and was to a large extent dominated by Salford cars.
In our card the open top car in the centre of the picture is the only Manchester tram to be seen. All the others are from Salford. The two balcony cars nearest to the camera are going to Rhodes and Prestwich. The open top cars would date from 1901-3. In the background can be seen two open top cars to which short top covers had been added in 1905.
The livery for Salford cars was maroon and cream until 1912. After that it was a red and cream very similar to Manchester's, but in later days the paintwork was very badly maintained and has been described as fading to orange and grubby stone.
The very last Salford tram on 31st March 1947 ran in Deansgate on the Docks circular route. Manchester continued with trams for a further two years.

Go to Postcard Of The Month Index




Reload Home if you linked directly to this page



Postcard of the Month is created by John R. Prentice © Copyright 2002