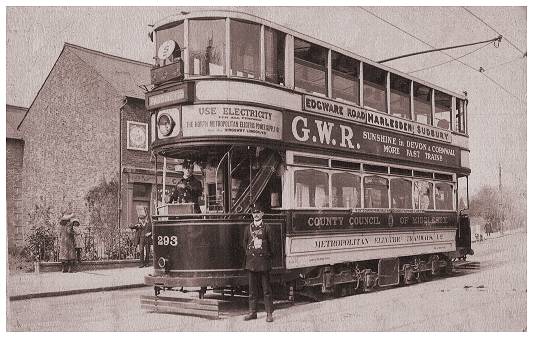 Metropolitan Electric Tramways Car 293, Sudbury
The Metropolitan Electric Tramways had its original roots in the North Metropolitan Tramways Company who had operated horse trams in East and North London since 9th May 1870. Under the authorising acts for the building of these tramways, the local authorities were allowed to purchase the lines after 21 years (in some cases 28) and the London County Council (formed in 1889) showed an interest in doing so. The North Metropolitan Company in 1894 set up a new company, the Metropolitan Tramways and Omnibus Company Limited with a view to it taking over the routes outside of the LCC area and ultimately electrifying them. In 1901 this new company became a full member of the British Electric Traction Group and in 1902 changed its name to Metropolitan Electric Tramways Limited. With the agreement of the Middlesex County Council (later also the Hertfordshire County Council), the first electric line opened on 22nd July 1904.
Our postcard is of tram 293 at the terminus of the route to Sudbury, which was opened on 24th September 1910. The card is a real photographic print created by an unknown local photographer. It was posted in 1917 but the inscription on the back tells us that it dates from about a year before that.
Tram 293 in the picture, built in 1911, was one of the 80 cars of Type "H" numbered 237-316 which were built for the Metropolitan Electric Tramways between 1909 and 1912 by the Brush Electrical Engineering Company of Loughborough. They had Brush Mountain and Gibson type maximum traction bogies and BTH electrical equipment with two 60 horse power motors. The livery was bright signal red and ivory. The "Electricity" advertisement on the car is for the North Metropolitan Electric Supply Company, an affiliate of the MET.
In 1912 the MET became part of the Underground Group and then in 1933, together with the other bus, underground railway and tram operators in London, was taken over by London Transport. Car 293 became London Transport 2225 and was scrapped in 1938. Route 62 to Sudbury was replaced by trolleybus route 662 on 23rd August 1936, which itself was replaced by motor buses on 2nd January 1962.

Go to Postcard Of The Month Index




Reload Home if you linked directly to this page



Postcard of the Month is created by John R. Prentice © Copyright 2002