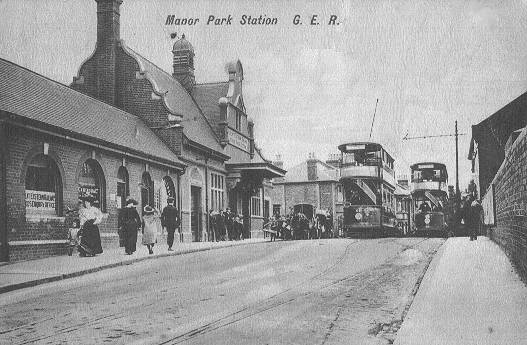 East Ham Tramways Cars 21 & 32, Manor Park.
The year 2001 was the centenary of the opening of London's first electric tramways. The first municipally owned electric tramway was that in the Urban District (after 1904 Borough, after 1915 County Borough) of East Ham.
Our postcard is number 2114 in a series produced by Charles Martin of 39, Aldermanbury, London, E.C. and dates from 1909. The view is at Manor Park Great Eastern Railway Station and shows cars 21 and 32.
On 22nd June 1901 East Ham Council opened a completely new tramway, i.e. not just an electrified horse tramway, beginning with three routes: Manor Park to the Ilford boundary, Manor Park to Beckton Park (Manor Way), and Upton Park (Boleyn) to Barking boundary. Extension of the initial system soon took place, with tracks continuing north to Wanstead Park and south to Royal Albert Dock plus a line along Plashet Grove.
In the next few years the surrounding councils of West Ham, Ilford and Barking also entered the field as tramway operators and, from the earliest days, joint workings were undertaken between them and with the London County Council Tramways. East Ham cars regularly worked the through routes from Ilford Broadway and Barking Broadway to Aldgate.
The council operated several types of tram. Initially, these were four-wheel open-top cars, most of which received domed top covers. Later deliveries came complete with their top covers and some dating from 1921 had flat roofs. In 1927 East Ham took delivery of twenty bogie trams, similar in design to the L.C.C. E1 class.
The trams in our postcard view were two of the original open-top class of 35 cars built between 1901 and 1903 by the Electric Railway and Tramway Carriage Works of Preston. They had Brill 21E 6ft wheelbase trucks with Dick Kerr controllers and motors. They seated 56 passengers. The top covers were fitted in batches from 1904 onwards. The livery was reddish brown and yellowish cream.
London Transport came into existence in 1933 and soon took on a policy of replacing trams with trolleybuses. In 1934 car 21 in our view was one of two of the class transferred to Abbey Wood to run on the Erith Line, but only lasted there for one year. By 9th June 1940 the last tram had run in the East End streets, but the East Ham bogie cars were transferred to South London where they continued to run until the end of trams on 5th July 1952.

Go to Postcard Of The Month Index




Reload Home if you linked directly to this page



Postcard of the Month is created by John R. Prentice © Copyright 2001