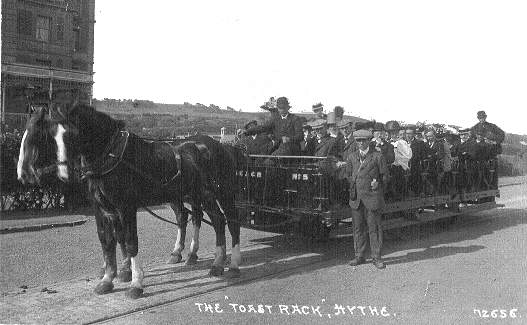 Folkestone, Hythe & Sandgate Tramway, Horse Car 5
For a relatively small and short system, that of the Folkestone, Sandgate and Hythe Tramway Company on the south Kent coast had an interesting history that can only be summarised here. The first section, between Seabrook and Sandgate, was opened on May 18th 1891 and the final section westward to Hythe was completed in the summer of 1892. The single-track line was laid to standard gauge with just two passing loops in its length of nearly four miles.
There were five single deck trams. The first two were built by Geo. F. Milnes of Birkenhead in 1891 and seated 40, No. 1 being roofed cross-bench and No. 2 being open toastrack but to which a roof was added in 1897. The remaining cars were built by the South Eastern Railway Company at its works at Ashford. Car No.3 of 1892 was a closed saloon for use in winter or inclement weather, seating around 24. Also of 1892 was No. 4, a roofed cross-bench car seating 40. The car shown in our view, No. 5, was an open toastrack built in 1897. It had nine rows of seats for a total of 45 passengers. The fleet livery was a deepish red known as 'South Eastern Carriage Lake', with gold lining. (See also historic photo).
In 1893, it was taken over by the South Eastern Railway Company (later to become the South Eastern & Chatham Railway) and renamed the Folkestone, Hythe and Sandgate Tramway but, in spite of its name, the tramway was never extended beyond Sandgate to Folkestone as originally envisaged because the steep hill in that direction could not have been served by horse-power. The line closed during the First World War but reopened in June 1919, initially using ex-army mules, running only during the summer months until final closure on September 30th 1921. The former depot and some track are still visible in Hythe close to the Red Lion Hotel.
The real photographic postcard shown is No.72656 in the Bell's Series published by J.Walker & Co. of Westcliff-on-Sea in Essex. It shows car No.5 late on a sunny afternoon. This particular card was posted on June 5th 1913 and part of the message remarks, "our latest tramcars!"

Go to Postcard Of The Month Index




Reload Home if you linked directly to this page



Postcard of the Month is created by John R. Prentice © Copyright 2000