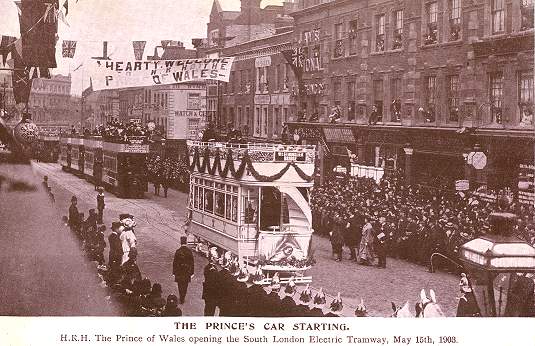 London County Council Electric Tramways - Opening
In the heyday of Edwardian postcard collecting it was common for cards to be produced to show newsworthy events. Photographer Gordon Smith of Allerton Road, Stoke Newington, London, chose the opening of the London County Council (L.C.C.) Electric Tramways to be favoured for such a card, and it is shown here. The view is in Westminster Bridge Road at Lambeth Palace Road, Westminster, as the Prince of Wales (later to become King George V) is about to board the car. In the foreground can be seen some of the 100 firemen, led by Captain Wells, that were on parade for the occasion.
The opening ceremony took place on 15th May 1903 at 3.30 pm. Prior to this there had been a seated banquet for 2,334 people in a huge marquee set up in the grounds of the adjacent St. Thomas' Hospital. The first tram was started by the Prince of Wales and was then driven to Tooting by the Tramways Manager, Alfred Baker. Mr John Williams Benn, the Chairman of the L.C.C. Highways Committee, acted as conductor collecting the halfpenny fare and issuing special tickets printed blue and gold. Also present on the tram were the Princess of Wales, her two small sons Edward and Albert, Mr Gerald Balfour - President of the Board of Trade, and Lord Monkswell - Chairman of the L.C.C. At Tooting the party visited local workmen's housing built by the L.C.C. and then they returned to Westminster on the top deck of the tram. (See also Historic Photos).
The vehicle was number 86 of class A. This was one of a batch of 100 ordered from Dick Kerr of Preston. The bodies were built by the Electric Railway and Tramway Carriage Co. Ltd. They had Dick Kerr DB1 form D controllers, and a pair of Brill 22E bogies, each with a 30 horsepower Dick Kerr 3A4 motor. One bogie in each pair was modified to take the plough for the conduit current collection used by the L.C.C. The cars seated 66, 28 inside and 38 on top. As built the trams were open topped, but within the first few years had received top covers.
Special car 86 was painted white and was decorated with evergreen and fern. Inside, the wooden seats were replaced by pale blue and pink armchairs and, to complete the luxury, blue and white curtains and blue carpet had been fitted.

Go to Postcard Of The Month Index




Reload Home if you linked directly to this page



Postcard of the Month is created by John R. Prentice © Copyright 2000