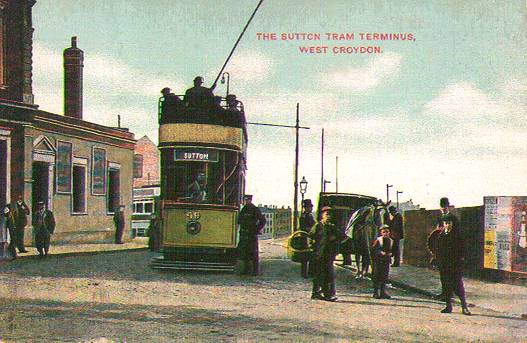 South Metropolitan Car 49, West Croydon
This card shows tram 49 of the South Metropolitan Electric Tramways and Lighting Co. Ltd. The view was taken early in 1907, was printed in Bavaria, and published by Gottschalk, Dreyfuss and Davis in their "Star" series. The location of this stub terminus of the Sutton tram route was in Tamworth Road, West Croydon. The colour of the tram is fairly close although the green should be a little darker (livery described as Brunswick Green and Ivory).
SouthMet was part of the British Electric Traction Group (BET). They opened the West Croydon to Sutton tram route on 11th November 1906, the Mitcham route from this same terminus having been opened one month earlier. In 1913 SouthMet was absorbed into the Underground Group and the trams were repainted red and white, and in 1933 became part of London Transport, the trams then becoming red and cream.
Tram 49 was part of the 36-51 series (later called class M) built in 1906 by Brush of Loughborough, each at the cost of 707 pounds sterling. They had BT-H type B10 controllers and Brush motors. The truck was a standard gauge 7ft.6in. wheelbase Brush version of the 21E type, with three-quarter elliptical springs. Spencer track brakes with regenerative control were fitted for use on Anerley Hill on the Crystal Palace route. The tram body seated 24 inside on longitudinal seats and 26 (later 30) on "two and one seats" on top. The bodies were only 6ft.1in. wide over sills and were to the dimensions of a narrow gauge car. This was BET policy in the early days, so that if a standard gauge tramway company failed, the cars could easily be transferred to other systems in the group. (see also SouthMet Car 5 Postcard)
London Transport on 8th December 1935 replaced the Sutton tram route (latterly numbered 7) by trolleybuses of B1 class (fitted with run-back brakes for Anerley Hill) on route 654, and then at the first stage of trolleybus replacement on 3rd March 1959, by RT buses on route 154. Tramcar 49 had survived to LT days to be renumbered 49s and be repainted in their colours. It was withdrawn after the closure of the ex-SouthMet routes and after brief storage at Penge depot, it was broken up there in March 1936.
However the story does not end here. After a gap of over 60 years, with the opening of the Croydon Tramlink, trams are again running past the location of this historic postcard.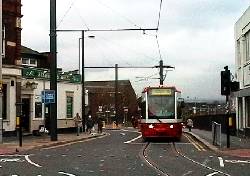 Go to Postcard Of The Month Index




Reload Home if you linked directly to this page



Postcard of the Month is created by John R. Prentice © Copyright 1999