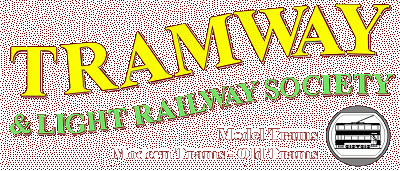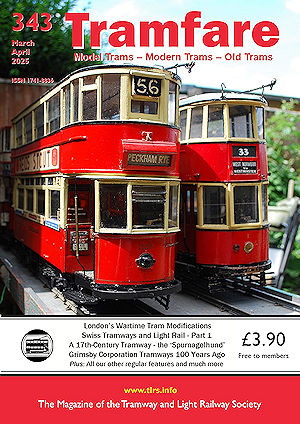 Tramfare
The TLRS publication Tramfare is an A5 size magazine.
ISSN 1741-8836

Tramfare is sent free to all TLRS members six times a year, so it is strongly recommended that you join the TLRS, as this is by far the cheapest way to receive it.

It can be purchased from a number of outlets including the National Tramway Museum, London Transport Museum and Ian Allan bookshops.

Single copies of the latest issue of Tramfare can be purchased on-line from TLRS Publications.

It includes illustrated articles on

tramway systems,
all areas of tramway modelling,
Society news and
a diary of talks and exhibitions.




In the latest issue, which publishes on or about 1st September 2018:

On the cover: Central Arkansas Transit Blue Line streetcar 412, captured by Kenneth G Williamson in May 2010 as it came off Main Street Bridge in North Little Rock (Arkansas), heralds his article on inside pages about the Little Rock streetcar revival using a small fleet of replica bogie cars.

Our major article this issue is about London tram route 7, but there were five of them running at the same time before the formation of London Transport in 1933. Eddie Dawes tells us about them all.

Gordon Bulmer continues with the Ravenscar theme, this time rising to new heights with a full description of his Ravenscar Funicular in 00 scale that complements and connects with the Ravenscar Pier tramway layout described in our previous issue.

John Prentice harks back to the modelling days of a TLRS pioneer, Frank Roche. His 1/16 scale tram models remain in a class of their own to this day.

The North American slant of this issue is supplemented by some nice pictures of PCC cars in Toronto and Philadelphia.

Croydon trams in London have gone cashless but there are no free rides. Mike Skeggs summarises the changes.

We show you the latest Isle of Man tram stamps to commemorate 125 years of the Manx Electric Railway.

We see Edinburgh tram 304 in this Tramfare issue 304

Thanks to Alastair Murray, we also see the remains of (second generation) Edinburgh tram 258 after its encounter with a bus near the airport; the tram won but was wounded.

There are more new tram models, tram kits and other bits and pieces in several scales in our regular and ever-popular Model Tram News feature.

Many other smaller, but no less interesting, items to inform and amuse, including book/magazine reviews and an old picture postcard tram cartoon.

Advertisements for model trams, both as kits and RTR, and for the Wirral Bus and Tram Show in October (try not to miss that).

Regular features on exhibitions, future meetings and reports of past meetings.

44 pages of trams, large and small, and no blank pages for just £3.60 - about the price of a pint of beer (depending on where you live) but Tramfare will last longer and not give you a hangover.

Enjoy it all.
If you subscribe to 'Tramfare' by joining the TLRS, you will save a large amount each year compared to regularly buying copies in booksellers or at museums etc.
Articles on tramway subjects are always welcome, model or full size, old or modern.
The editor is:
Bob Appleton

Email: tlrs.editor@tramwayinfo.com
---
© Copyright J.Prentice / Tramway & Light Railway Society 2018