Model Trams

Shows and Exhibitions
Model Tram Shows and Exhibitions
Model tramway layouts are exhibited at a range of model shows, varying from mainly railway to mainly tramway. Sometimes there are sales stands selling tram models, kits and parts.
---
Festival of Model Tramways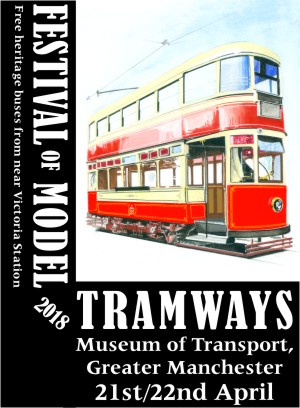 The main exhibition of the year, devoted completely to model trams and the national and premier event for the model tram enthusiast, is the Festival of Model Tramways, which is an annual show alternating since 1989 between London and the provinces. The London exhibitions were for many years held at the Kew Bridge Steam Museum and at Fairfield Halls, Croydon. The provincial shows have been at various venues including the National Tramway Museum at Crich, Derbyshire, the Midlands Transport Museum in Wythall, Birmingham, the Blackpool and Fleetwood Centenary and the now regular location, the Museum of Transport in Manchester.
The details of the current exhibition and reviews of earlier ones can be found on the Festival pages.
---
Exhibitions with model tramway interest
The following exhibitions have some tramway interest, although this may be only one tramway layout or display.
14/04/2018
Luton
Stopsley High School, St. Thomas Road, LU2 7UX
-
Dave Carson's 4mm Terminus-All Change!!!
21-22/04/2018
Manchester
The Festival of Model Tramways
at the Museum of Transport, Greater Manchester, Boyle Street, Cheetham, M8 8UW
10-5
The BIG ONE with a huge number of tramway stands. the national and premier event for the model tram enthusiast. Don't miss it.
12/05/2018
Reading
Rivermead Centre, Richfield Road, RG1 8EQ
10-4.30
G scale Whiteleaf Light Railway
12/05/2018
Sompting
Village Hall, West Street, BN15 0BE
10-5
The late Vernon Cunningham's 7mm Tramwick shown by TLRS West Sussex.
19-20/05/2018
Middlesbrough
St Paul's Road, TS1 5NQ
-
Gordon & Margaret Bulmer's 4mm Foxwood Park
2-3/06/2018
Shildon
Locomotion, DL4 2RE
-
Gordon & Margaret Bulmer's 4mm Foxwood Park
09/06/2018
Biggleswade
Trinity Methodist Church, Shortland Street, SG18 0AD
-
Dave Carson's 3.5mm New Warmington Pier
23-24/06/2018
Blackpool
Rigby Road Depot, FY1 5DD
Sat 10-5
Sun 10-4
Various tram and railway layouts
21/07/2018
Pevensey
Memorial Hall, Chuch Lane, NE29 9PU
10-4.30
The late Ron Leach's 7mm narrow gauge Hythe Road shown by TLRS West Sussex.
28-29/07/2018
North Shields
John Spence Community High School, Peston Road, NE 29 9PU
-
Gordon & Margaret Bulmer's 4mm Ravenscar Pier
4-5/08/2018
Redcar
Redcar & Cleveland College, Corporation Road, TS10 1EZ
-
Gordon & Margaret Bulmer's 4mm Ravenscar Pier
6-7/10/2018
Shildon
Locomotion, DL4 2RE
-
Gordon & Margaret Bulmer's 4mm Ravenscar Pier
20-21/10/2018
Hartlepool
College of Further Education, Stockton Street, TS24 7LB
-
Gordon & Margaret Bulmer's 4mm Foxwood Park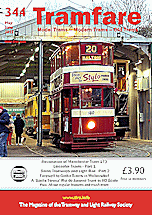 This information is compiled by Clive Beech (TLRS Publicity Officer) for the Tramfare magazine and it is reproduced by permission of the TLRS. It has been provided by various sources and is published in good faith. No liability is accepted as a result of any reliance on this information. Please check with the exhibition organisers before travelling any distance.


Details of exhibitions where model trams will be shown should be sent to:
Clive Beech, 170, Derby Road, Beeston, Nottingham, NG9 3AL.







Reload Home if you linked directly to this page



© Copyright Tramway & Light Railway Society 2017